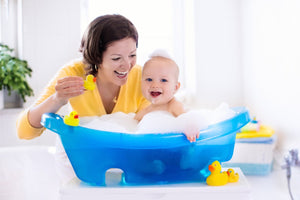 Bathing Essentials for a Bathing Baby
It is important to keep your baby's delicate skin clean to ensure good health. Some babies take time to get used to being in water but it is not long before they look forward to having a good splash in the bath.
 Different products and bathing accessories age are available in the market today. However, the most important bathing essentials are given here to ensure that bathing is always a safe and fun activity.
Baby bath
 You may like to have a special baby bathtub for your baby. There are a number of designs available in the market to choose from. Most new-born baby baths have special back and headrests to support the baby, whereas some are bucket-shaped, which enable your baby to sit up. Some bathtubs are designed to fold; whilst others can monitor water temperature.
Bath support
 Baby baths can be used only for a few weeks before the child overgrows it. Therefore, some people use bath support in an adult bath. Your baby requires a specially-designed bath support until the baby can sit up on their own. Bath supports are made of foam, plastic, or fabric and are ergonomically designed to ensure the baby's comfort. Bath supports do not occupy much space and are ideal to carry.
Shampoo and conditioner
 Despite spending a lot of time sleeping, babies' heads and hair are prone to getting dirty and tangled. Using a gentle shampoo to wash their hair plays a vital role in caring for the sensitive skin on their scalp.
 A lot of options are available for infants, babies, and toddlers. However, you should use a shampoo designed for babies as most adult shampoos contain chemicals and are not suitable for children. It is best to use organic shampoo as these do not expose kids to any dangerous chemicals.
 Conditioners smoothen the hair tangles and make combing easier. After shampooing, use a little amount of conditioner and evenly spread it throughout the hair before rinsing.
Shield your baby's eye
 You often end up becoming a distorted figure grimacing all the way when you try to stop water or shampoo going into your kid's eyes. In the unfortunate event of shampoo entering your kid's eyes, you have a terrible time of trying to stop the little one from crying. It is therefore advisable to buy a shampoo guard, which will keep everyone happy, clean and calm. There are lots of devices that protect your toddler's eyes from water and shampoo, while also being fun for little ones to use. A shield or specifically designed rinse cup means you have greater control in the bath when washing hair.
Baby towel
 It is important for a baby to have their own towel. The primary reason for this is to avoid the risk of transmitting conjunctivitis and other easily-communicable illnesses. These diseases, which are largely harmless to older children and adults, could be problematic in new-born. It is best to have softer towels as your baby's skin is also very sensitive.
---